SYDNEY FOLK FESTIVAL 2023
Whether you're coming for the whole festival or just a day we hope you enjoy your urban winter weekend SydFolkFest23 experience. Here is some helpful information.
Where You'll Find Us
Our Festival Hub in 2023 is the Gaelic Club, 1/64 Devonshire St just a stone's throw from the Devonshire St exit of Central Station. The Gaelic Club will host a range of concerts throughout the weekend. Right next door is Molly Malone's and their Mezzanine level is where you'll find all our participatory activities.
Tom Mann Theatre, 136 Chalmers St, is a dedicated concert venue hosting a range of performances on Friday night and Saturday from 10:00am through till 10:30pm.
Quakers' Hall, 119 Devonshire St will host intimate, up close acoustic concerts from 10:00am until 6:30pm. At 7:30pm it becomes our Dance Hall, hosting the Festival Dance.

City Map of the Surry Hills Festival Precinct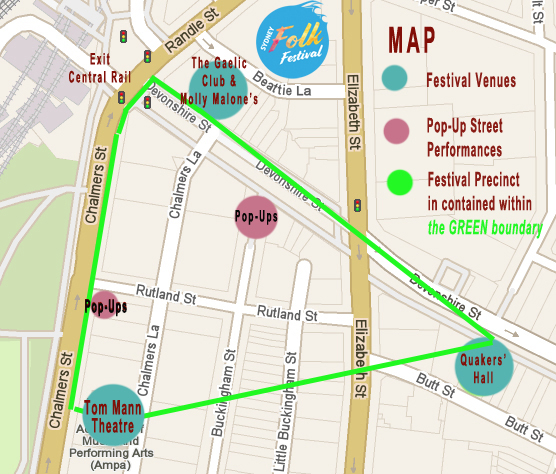 Please Note: Quakers' Hall is on Devonshire St so allow extra time when moving between there and Tom Mann Theatre as route in not direct.
Getting to the Festival
By Public Transport
TRAIN may be the best option for most people but make sure you check City Rail for track work and other activities that may effect your line.
Coming from the south or west use back carriages and from the north or east use front carriages. This will get you to the Devonshire St exit end of Central Station.
Check the TransportNSW Trip Planner for information about Train, Tram and Bus Timetables
By Car
General guide to parking in the City of Sydney:
Wilson Parking, 55 Holt St Surry Hills is the closest Parking Station to the venues. Online booking cost is $14 for Friday 5pm – 11.30pm; $30 for Saturday 7am – 11.30pm; $20 for Sunday 7am – 11.30pm.
Goulburn St Car Park is the cheapest Parking Station though a little further from the venues: Enter via Goulburn Street, Corner of Goulburn and Elizabeth Street. Disability access – restricted lift and ramp access at this car park. Maximum Height 1.95m.  RATES: Friday from 5pm – 6am flat rate $10. Saturday and Sunday from 6am – 6am: flat rate $14 per day.
---
Box Office Opening Times
Friday 18 Aug:
Gaelic Club & Tom Mann Theatre – From 6:00pm
Saturday 19 Aug:
Gaelic Club & Tom Mann Theatre – From 9:15am NB: There is no Box Office at the Quakers' Hall so you will need to drop into the Gaelic Club or Tom Mann (depending which is closer) to sort your ticket/wristband.
Sunday 20 Aug:
Gaelic Club only – from 9:30am
---
Tickets
While it will be possible to buy tickets at both the Gaelic Club and Tom Mann Theatre Box Offices on the day if still available it would be a huge help to our box office volunteers if you bought your ticket/s online before arriving at the festival. It will also be much faster for you to redeem your wristband than to have to go through the whole ticket purchasing process.
See all ticket types and costs HERE
NO TICKETS TO INDIVIDUAL SHOWS: Please be aware that, with the exception of the Saturday Night Festival Dance, we are just not able to sell you tickets to individual artist's shows. We have whole weekend Season Tickets plus a limited number of Day Tickets available so please plan your festival weekend or your day at the festival accordingly to get the most out of it.
---
Programs
Please Note: There will be NO PRINTED PROGRAMS this year. You will find all the information you need at the website.  We've made everything phone friendly so you can use your phone to look up performers and times. The grid format of the SFF23 program is available in a print-friendly format  HERE. You can also look up your favourite acts and find their performance days and times under their bios. It's good to plan ahead.
Any changes to the program will be notified as soon as we know about them on Notice Boards at venues and on all our digital platforms.
---
 
Disability Access
Tom Mann Theatre 
is a wheelchair accessible venue with a wheelchair accessible toilet.
The Gaelic Club has a small number of stairs and then a lift and is not easily wheelchair accessible.  Please contact us prior to attending.
Quakers' Hall is accessible providing you notify us beforehand (0400 786 494).
Unfortunately Molly Malone's has stairs to the Mezzanine and is not accessible.
Please contact us before purchasing your ticket to discuss options.
---
Facilities
The Gaelic Club: Box Office – Ground Floor; Performance Area, Bar, Toilets – Upstairs / Lift.
The Tom Mann Theatre: Box Office – Foyer; Theatre & Toilets – Access from Foyer.
The Quakers' Hall: Performance Area & Toilets – Street level.
Molly Malone's: Bar, Food & Toilets – Street level; Session Area – Upstairs to Mezzanine
---
Performer CD and Merch Sales
Note: There is no Festival shop. Artists will be selling CDs etc following their concerts and workshops. Tables for this purpose will be provided at both festival locations.
---
Food and Drink
Bars: The Gaelic Club has a bar but patrons are asked not to move to and from the bar during performances. Molly Malone's street level. There are also other hotels in the festival triangle.
Food: There are a number of food outlets in the vicinity of the Gaelic Club, Tom Mann Theatre and Quakers' Hall. View map HERE or see more information HERE for eateries and opening days/times.
---
Terms and Conditions
For further information view our Terms and Conditions